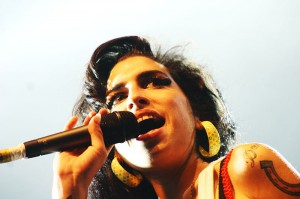 This article appeared in the Sydney Morning Herald and The National Times on 26 July 2011 under the title "Sad Amy's legacy adds up to more than 27". Head there to see the comments, which split more or less evenly between folks who question the characterisation of addiction as a disease (which comes from the Russell brand quote near the end of this article) and those who have some sympathy for addicts. I was pleased to receive an email from Dr Ingrid van Beek AM (addiction physician who ran the King's Cross Medically Supervised Injecting Centre, and who thus knows a great deal about addiction), saying "I just wanted to let you know that as an addiction physician I totally agreed with your article in this week's SMH about Amy Winehouse's recent death". According to Ingrid, "drug dependence is a chronic relapsing condition, and aim to mobilise support to keep people alive throughout its natural course". Very well put!
The other issue that folks riased in the original comments is whether Amy deserves to be mentioned in the same breath as other members of Club 27. I'm only a distant admirer of Winehouse's music, and I'd question her merit myself, but these comments suggest a believe that this Club 27 is some kind of real thing, attained by merit. As though musicians are only able to be admitted (by dying) once they reach a certain level of influence and stardom. Not only is this ungenerous, but it is also ridiculous.
Every one of the so-called members simply had the misfortune to die at a certain, arbitrary, age. Just because we can discern a pattern in the world does not mean that the pattern is real. it's like our ability to see Mother Teresa in the shape of a bun, or the Virgin Mary in a fencepost at Coogee beach. It's the kind of psuedo-profound drivel that props up cultish and religious supersition.
The only sense in which Club 27 is real is that it adds fuel to the publicity fire, elevating the artist's sales even more than dying at a less coincidental age like 26 or 30 might do.
AFTER THAT LONG PREAMBLE, HERE IS THE ARTICLE …………