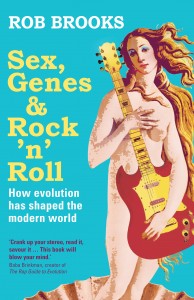 Like many of you, I've been doing a bit of Christmas shopping. I forgot how depressing the obnoxious crowds, the artless carols and the sheer tedium of shops tends to get me down. But worst of all, there seems to be plenty of crap and not much of substance out there for folks wanting to give a thoughtful gift. Which is why I'm here to remind you that Sex, Genes & Rock 'n' Roll would make a wonderful gift for anybody who is a) literate and b) curious about our world. That's a pretty big target market.
If you want to buy a friend or loved one a copy, then here are some of your options:
In the mean time, good luck with your shopping. Watch this space for my latest rant about Christmas carols and the death of art – due out in the next couple of days.